CAREER OPPORTUNITY — KIWI-TEK — an American Company

Check out CAREERS with Kiwi-Tek
https://www.kiwi-tek.com/careers/
EXPERIENCE – ALL-AMERICAN – SAFE&SECURE – PERFECT FIT
The More You Read The Better We Look
Performing medical coding services across all specialties since 2002, KIWI-TEK offers unparalleled medical coding experience.
Today we utilize only highly experienced, eminently qualified domestic coders and coding managers. Our All-American coding has proven repeatedly to be more responsive, more accurate and more cost-effective than in-house, other domestic remote coding, or even offshore coding.
All the best in medical coding
If you want the best accuracy, best turnaround, best compliance and best reimbursement in medical coding service, KIWI-TEK would be the best coding service provider for you.
We begin with the best and brightest domestic coders and coding managers in the business. We then require them to maintain and expand their expertise through our recurrent training and testing to the highest industry standards.
ICD-10 brought forth an exponentially greater number of codes, subsets of codes, and nuances of interpretations of codes. Only experienced, currently qualified and intellectually invested coding specialists can appreciate the complexities and make the proper coding decisions to efficiently and effectively code your charts to your optimum reimbursement. KIWI-TEK's All-American team of medical coding experts presents you with the best options in partnership medical coding.
Just the right fit
KIWI-TEK offers you Partnership Coding tailored to your hospital, clinic or physician group regardless of size, specialties and workloads. You can choose whatever and how much coding you require, from PRN to just a few specialties to a complete partnership coding program.
We will customize a coding plan that will most cost-effectively handle your varying coding requirements. We will help you contain operating expenses, maximize return on your coding investment, and actually contribute to improved health care through more responsive, more accurate and more definitive coding. Better coding records result in better health care.
The Home Team Advantage
KIWI-TEK's All-American team of expert and experienced coding specialists provide you with a tremendous advantage over offshore coding. Our training, qualifications and certifications simply can't be matched by offshore vendors. In fact, it's unlikely you can ever be assured of the qualifications of offshore coders working on your charts.
The suspect qualifications of offshore coders often result in inaccurately coded charts, which may be rejected and have to be recoded, costing you time and money. At the very least, you're probably not receiving the most sophisticated coding that would allow you the most appropriate reimbursement.
KIWI-TEK coders' real-world exposure to medical diagnoses, procedures and outcomes means they can assess and apply codes faster, more accurately and more effectively. You benefit from 95+% accuracy, quicker chart turnarounds, better compliance and faster payback.
ALL-AMERICAN
Why Choose KIWI-TEK For Your Medical Coding Needs?
Cheaper is not always better. As companies that have outsourced their medical coding offshore have come to realize, there is a significant amount of risk and inaccuracy involved when medical coders are sourced from outside the United States. They have now come to understand that it is better for their bottom line to use domestic medical coders from medical coding companies in the USA.
One of the best solutions to become available to physicians, medical groups and medical facilities is medical coding in the USA — provided by KIWI-TEK.
Medical groups and administrators rely upon:
The accuracy of KIWI-TEK domestic coders. KIWI-TEK is proud of its reputation of delivering 95-plus percent coding accuracy for clients.
The certifications and ongoing training required of KIWI-TEK medical coders. Medical coders have certification from AHIMA or AAPC and a minimum of three years of experience with coding for a hospital facility. Domestic coders are held to international standards and apply best practices. KIWI-TEK coders are experienced with the challenges posed by ICD-9, ICD-10, CPT and HCPCS.
The speed of KIWI-TEK medical coders. Domestic coders are available around the clock to accurately complete the medical coding needs of practices.
The implementation of ICD-10 and the need to remain HIPAA compliant means that medical coding must be accurate and done quickly. Address coding backlogs with coders who understand medical coding nuances. Reduce the potential for denied claims with qualified medical coders in the USA.
Using qualified and well-trained domestic coders from one of the leading medical coding companies in the USA who are available 24/7 can make for significant improvements in the management of medical coding completion, patient billing and compliance requirements.
AVOID THE PITFALLS OF OFFSHORE CODING
Understand that as demand for offshore coders accelerated, inexperienced, newly trained offshore coders flooded the offshore coding ranks. Thus, coding quality, accuracy and reliability have become questionable.
In many cases, the cost of domestic "repairs" of offshore coding errors and rejections by insurance carriers offset the lower cost. The offshore coder inventory has grown well beyond the domestic demand for their services. As a result, offshore companies are now buying American coding companies and staffing them with offshore coders.
Learn from the mistakes others have made and choose a trusted and reliable domestic medical coder provider.
KIWI-TEK HAS CHOSEN NOT TO PURSUE OFFSHORE CODING RELATIONSHIPS, EVEN WITH THEIR PROMISE OF LOWER COSTS.
Our reputation for excellent accuracy, fast turnaround and more deserved reimbursement for our clients requires that we provide only our domestic coding network. Its inherent cost-effectiveness — plus our fine-tuned cost structure and various modular coding packages — offers you high-quality coding at extremely competitive rates.
You Must Be Comfortable With Your Medical Coding Choice.
KIWI-TEK understands that an ideal external medical coding solution meets the unique needs of each healthcare provider. There is no one-size-fits-all medical coding services package that works for every specialty while perfectly complementing diverse patient populations and company cultures. Before recommending a customized plan for your organization, we spend time getting to know you and your team—exploring your patient services, budget constraints and financial goals. Armed with this information, we'll offer you a range of medical service options that inform thoughtful decisions.
Partnering with a medical coding outsourcing company gives physicians, clinicians, medical groups and practitioners in other medical treatment facilities freedom to focus on patient-centered healthcare. Your mission is to deliver high-quality continuity of care. The KIWI-TEK mission is to ensure you have a secure, HIPAA-compliant system that is customized to manage cash flow and improve revenue potential—regardless of the coding model used by your organization.
Chose KIWI-TEK As Your Remote Coding Solutions Partner
Our approach to creating medical coding partnerships is simple. We provide an exceptionally skilled coding team on your terms. We offer PRN coverage, Total Partnership Coding relationships, and every imaginable scenario in between. As your requirements change, we change with you.
FLEXIBLE
Whether you need coverage during short-term staff vacancies due to medical leave, or face the challenge of replacing a valued employee who retires, we are there. If your practice does not have a dedicated coding department, we can provide 100 percent of your daily coding needs.
EXPERIENCED
Our medical coders have extensive medical coding experience, backed by ongoing professional development. They possess current knowledge about industry changes and compliance updates as well as nuanced strategies that boost revenue potential while reducing days on the accounts receivable ledger and denials.
ACCURATE
Efficient, accurate medical coding enables facilities and medical practices to quickly respond to planned and unexpected expansion and contraction. A customized medical coding plan designed for a perfect fit ensures your organization is fully prepared for every situation that arises.
A customized solution considers your specialty, current DNFB, denial ratios, training costs and other challenges you want to overcome. Take a quick survey to learn more about KIWI-TEK's consulting services. Or, call us at 866-709- 5494 to speak to a representative.
Are You Safe And Secure?
Your Facility Could Be Liable For PHI Compliance Infractions Of Your Outsourced Coding Company.
Without proper protected health information (PHI) security protocols of their own, second- and third-party vendors could create infraction liabilities amounting to millions of dollars for the facilities employing them.
To mitigate your liability for your outsourced coding company's PHI compliance oversights, you should take the appropriate steps to ensure that they conform to all of the guidelines in the HIPAA Privacy Rule and Security Rule.
A Real Security Threat
Prosecutions of protected healthcare information violations have been increasing rapidly since 2013, and 2016 was a record year:
http://www.beckershospitalreview.com/healthcare-information-technology/10-largest-hipaa-settlement-fines.html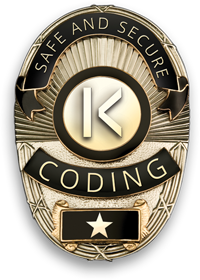 Most facilities are themselves compliant, but they don't realize their vendors may not be. In this digital age with electronic records and charts being exchanged outside your facility at the speed of light, many points in the conveyance are vulnerable to information "leakage."
The problems and your vulnerability increase dramatically if you're using an offshore coding company. They often don't abide by U.S. compliance standards and they're seldom transparent in their data security processes. If your offshore coding company proves responsible for a compliance infraction for which your facility is prosecuted and fined, what are your chances you would be compensated for damages?
The Office for Civil Rights (OCR) leads the charge, with the authority to oversee, investigate and make recommendations on breaches of PHI use under HIPAA and HITECH. If an audit discovers your outside coding vendor lacks proper compliance procedures and you can't demonstrate you've taken proper safety precautions, the consequences can be extremely costly for you. HIPAA and HITECH regulations set up the overall policing structure, but the HIPAA Omnibus Rule defines the specific criteria that impact your relationship with your outsourced coding company.
HIPAA Omnibus Rule
Outlines the Office for Civil Rights' (OCR's) data privacy and security enforcement strategies, as updated for the Electronic Health Records (EHR) era mandated by the HITECH Act.
Holds HIPAA business associates to the same compliance standards for protecting PHI as covered entities, including subcontractors of business associates.
Increases penalties for noncompliance based on the level of negligence, with a maximum penalty of $1.5 million per violation.
Guarantees that organizations can operate with certainty that their privacy and security policies comply with all applicable regulations.
According to HIPAA, a Covered Entity or Covered Entities are defined as health plans, health care clearinghouses, and health care providers who electronically transmit any health information relative to Department of Health and Human Services standards. If you're a hospital, clinic or physician group or practice, you're a covered entity.
The Final Omnibus Ruling of January 2013 defines a Business Associate as "a person or entity that creates, receives, maintains or transmits protected health information to perform certain functions or activities on behalf of a covered entity. " This includes "subcontractors that create, receive, maintain or transmit protected health information on behalf of business associates." If you're using an outsourced coding company, it is a business associate.
As a business associate, does your coding company have a comprehensive compliance plan to protect you as a covered entity from its own potential PHI oversights?
WE DO.
Play It Safe With KIWI-TEK.
We've taken extreme steps to protect ourselves as a business associate and our clients (covered entities) from compliance oversights. Our industry-leading information security process combines an all-inclusive array of human and digital protocols to cover all components impacting digital healthcare data exchange:
Workplace privacy standards and forms
Equipment monitoring
Organization
Business Associate Agreements (BAA)
User acknowledgments
Compliance documents
Incident plans
HIPAA Compliance Training and signed user acknowledgments
Each of these criteria addresses a potential point of vulnerability, prevention or correction in our management of protected health information our clients have entrusted to us.
No other coding company protects you like KIWI-TEK.